ONLY FIVE DAYS UNTIL THE LIVE NATIVITY & WE STILL NEED TO RAISE $5,000!
SELECT HERE to bring the Live Nativity to Capitol Hill!

NEW MATCHING GIFT CAMPAIGN:
A Christian organization has generously established a matching gift campaign that will match ALL donations up to $500,000 made between now and December 31!
Capitol Hill will be abuzz with activity when a live camel, donkey and sheep lead the way as Mary, Joseph and the Baby Jesus, along with shepherds, Wise Men and townspeople make their way to the United States Supreme Court!
YOU CAN BE A PART OF HISTORY – SELECT HERE TO HELP FUND THE LIVE NATIVITY!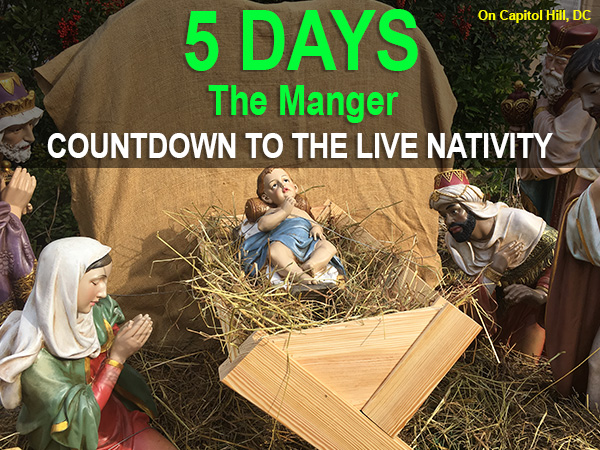 There is a two-fold message in the Live Nativity: 1) If we can stage a CHRISTmas Live Nativity in front of our country's highest court, then you can stage one in front of your county courthouse, town hall, city hall or state capitol, and 2) We want to remind our nation's policy makers that the message of Christ's gift of salvation on the Cross is the most important ever given to humankind—and is the real reason for the CHRISTmas season!


Luke tells us in his Gospel: And she brought forth her firstborn son, and wrapped him in swaddling clothes, and laid him in a manger. (Luke 2:7)


Imagine! The King of Glory, who spoke a word and the universe exploded into existence, comes into this world and is found in a cattle stall, lying in a manger. Why?
By the way, the manger was a feeding trough normally carved out of rock (not the straw-filled wooden version so often seen in our Christmas plays).
As the Apostle Paul tells us, this Jesus, who existed by nature as equal with God, made himself nothing...and humbled himself. But that is not His present state! Because of His humility, God exalted Him, and gave Him the name that is above every other name – that at the name of JESUS every knee will bow and every tongue confess — including government leaders across the globe — that Jesus Christ is LORD!
But not only does the manger point to the Lordship of Jesus, it also reminds us of our need for Him. Jesus came to a feeding trough because He is the Bread of Life – and all of those who hunger and thirst can find nourishment in Him!


AS THE LIVE NATIVITY IS DISPLAYED BETWEEN THE SUPREME COURT AND THE CAPITOL BUILDING, IT IS A POWERFUL MESSAGE TO GOVERNMENT OFFICIALS THAT JESUS IS LORD, AND THAT HE IS ULTIMATELY THE SOURCE OF OUR VERY BEING!


Thank you for your prayers and generosity in supporting our mission to our nation's leaders. You're a good friend of this unique ministry. But we need your help now to make certain this powerful witness to the gospel can continue. Right now, we need to raise at least $5,000 more to cover our expenses.
Will you once again stand with us?
To make your urgently needed, fully tax-deductible gift in support of the Live Nativity, please select here.
Thank you for your prayers and your generosity. And thank you for making CHRISTmas possible on Capitol Hill!
Peggy Nienaber, Vice-President, Faith and Liberty
Mat Staver, Founder and Chairman
Rev. Greg Cox, Lead Missionary, Faith & Liberty