We have just FOUR more days to raise the $5,000 in final expenses to bring the Live Nativity to Capitol Hill.
PLAY A PART IN PROCLAIMING THE GOOD NEWS OF CHRIST TO WASHINGTON DC BY DONATING TO FAITH & LIBERTY'S LIVE NATIVITY FUND – SELECT HERE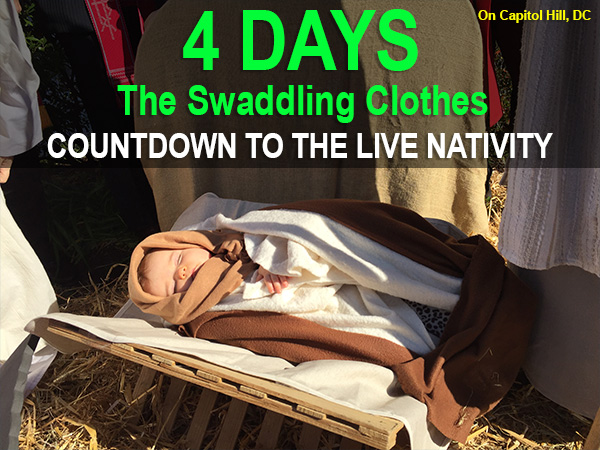 Each year we go through arduous preparation to stage our Live Nativity in Washington, DC. We have learned through experience that the Good News of the birth of Jesus must be communicated visually and simply to get the attention of our national leaders. And how much more important it is, when our country is so divided, that they be reminded of the birth of the Prince of Peace.
But true peace comes at a cost.


Luke tells us in his Gospel: And she brought forth her firstborn son, and wrapped him in swaddling clothes, and laid him in a manger. (Luke 2:7)


At first, we may be tempted to dismiss the "swaddling clothes" as simply a poetic phrase we remember from ancient Christmas carols. But that simple statement is FILLED WITH MEANING!
The words "swaddling clothes" are only found in the New Testament in Luke 2. The phrase literally means "swathing bands." Mary followed the ancient custom of tearing material into strips and using them to wrap her newborn Child. While this may be the only use in the New Testament, ancient Greek writers like Aristotle and Hippocrates often used the term as a medical term. Dr. Hippocrates (think Hippocratic oath) emphasized the medicinal purposes of using swaddling cloths to wrap wounds.


And there it is: Jesus came to wrap our wounds and heal – all of our sins, our sicknesses and our divisions. The prophet Isaiah told us clearly, "But He was wounded for our transgressions, He was bruised for our iniquities; The chastisement for our peace was upon Him, And by His stripes we are healed." (Isaiah 53:5)


That is the message of the Live Nativity to senators, presidents and justices alike: The answer to the bitter divisions that trouble the American soul today will not be found in a piece of legislation, nor in an executive action, nor in a judicial opinion.
The hope of the nation rests in a recognition of our national need for a Savior, who can heal our hurts and reconcile us, both to Himself and to each other.


That is why the Live Nativity is so important. IT IS A POWERFUL MESSAGE TO GOVERNMENT OFFICIALS THAT JESUS IS THE HOPE OF OUR NATION!


Thank you for being such a good friend of this unique ministry. And right now, we need both your prayers and your generosity to make certain this powerful witness to the Gospel can continue. With just four days to go, we need to raise thousands more to cover our expenses. Will you once again stand with us?
Every dollar counts! Your best gift can make all the difference in the world! To make your urgently needed gift in support of the Live Nativity, please select here.
Thank you for your prayers and your generosity. And thank you for making CHRISTmas possible on Capitol Hill!
Peggy Nienaber, Vice-President, Faith & Liberty
Mat Staver, Chairman
Rev. Greg Cox, Lead Missionary, Faith & Liberty